20th Anniversary Celebration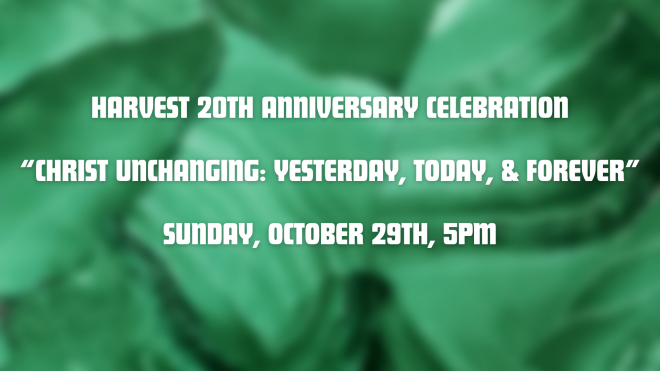 Sunday, October 29, 2023, 5:00 PM - 8:00 PM
Join us as we celebrate God's faithfulness to us over the past 20 years, and look forward to the next 20 to come! We have much to rejoice in, and we want to spend an evening giving God all the praise & glory for it.
Date: October 29th
Time: 5:00pm
Theme: "Christ Unchanging - Yesterday, Today, and Forever"
Together we will enjoy a celebratory service of songs, testimonies, memories, and Scripture. Afterward, we will enjoy fellowship around hor d'oeurve's & refreshments. We look forward to sharing this special evening with you.
Childcare will be provided for 4 years old and under.
"Jesus Christ is the same yesterday and today and forever" (Hebrews 13:8)